// SOLVING PHARMA 4.0's BIGGEST CHALLENGE:
MACHINE REAL-TIME CONNECTIVITY
// SOLVING PHARMA 4.0's BIGGEST CHALLENGE:
MACHINE
REAL-TIME CONNECTIVITY
Our Plug & Produce machine connectivity solution allows fast and easy integration of machines for instant actioning in a pharmaceutical production environment.
PLUG & MEASURE ANY MACHINE
Connect, collect and visualize real-time data from any machine or automation system on the pharmaceutical shop floor.
TRANSFORM MACHINE DATA INSTANTLY
Clean, transform, encrypt and securely transmit machine data to on-premises or cloud systems for real-time machine monitoring.

ALERTS AND ACTIONING
Alert the right person at the right time when action needs to be taken. Track incidents through a workflow with reassignment, resolution, and full audit logging.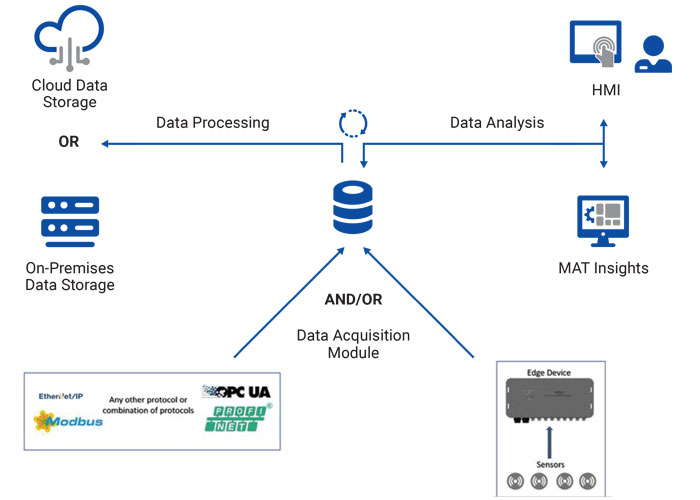 WHAT IS THE MACHINE DATA CONNECTIVITY MODULE?
The Machine Data Connectivity module is a plug & measure IIoT-driven solution that allows you to connect any machine across your pharmaceutical site / enterprise and use real-time machine data to instantly optimize production efficiency and product quality.
LACK OF REAL-TIME MACHINE DATA
// The Challenge
In pharmaceutical manufacturing, the greatest impediment to process improvement is not always regulatory constraints.
In many instances, it can be lack of real-time process visibility. The foundation of any factory's digital transformation begins with the automated capture, transformation, and contextualization of machine data.
Vimachem Machine Data Connectivity IIoT-driven software provides a scalable solution for manufacturers that can be self-installed to easily collect data from any piece of equipment and send it to Cloud or to a local server, to enable actionable machine insights in a matter of minutes.
CAPTURE PLC AND CONTROL DATA
Universal plug and measure data collection for PLC's that support open protocols including MTConnect, OPC-UA, and Modbus.
CONNECT SENSORS QUICKLY
To incorporate even the most difficult equipment, add external sensors or link older equipment with digital and analog IO that can be configured and operated centrally through a web interface.
TRANSFORM DATA INSTANTLY
To allow reliable reporting and analytics, our automated data transformation engine converts machine data into common data structures across all types of equipment. Custom Sensor Values, Machine Status, Modes, Alarms, Overrides, Load, Speeds, Feeds, Diagnostics, and other data objects are collected, transformed and stored ready to real-time analytics.
DEPLOY WITH FLEXIBILITY
Easily deploy Vimachem IIoT Edge devices connected directly to any modern machine control system via the ethernet port, or install our Edge software on your own VM or server.
CLOUD INTEGRATION (OPTIONAL)
Data is encrypted and safely streamed to the Vimachem IIoT Cloud MES platform in real time via ethernet, wifi, or cellular connectivity.
PLUG & CONNECT COMMUNICATIONS FOR ANY MACHINE OR DEVICE
PLUG & CONNECT COMMUNICATIONS FOR ANY MACHINE OR DEVICE
// Utilize IIoT, big data, and cloud technologies to expand machine connectivity and increase the value of machine data.
FAST TO DEPLOY
Plug and measure, easy to use and to scale.
DRIVE IMMEDIATE VALUE
Out-of-the box connectitivy to the pre-built Vimachem Pharma 4.0 Intelligence MES apps.
CONNECT TO EVERYTHING
Easily integrate all machines across your pharma production and packaging shopfloor.
DEEP PHARMA EXPERTISE
Our deep understanding of the pharmaceutical manufacturing operations guarantees immediate ROI.
Vimachem team of automation and software engineers are experts in machine and data protocols having competed machine data connectivity projects in more than 20 countries.
Our expertise in machine data acquisition combined with our deep technical knowledge of the pharmaceutical shopfloor make us the ideal partner for connecting machines across the pharmaceutical shopfloor.
READY TO AUGMENT YOUR SHOP FLOOR OPERATIONS?
READY TO AUGMENT YOUR SHOP FLOOR OPERATIONS?
Get started with real-time manufacturing analytics today.